Due to downsize your piercing soon and don't know what to do?
As you probably already know, downsizing your jewellery is an important part of the healing process. Once the initial swelling goes away, shortening the length of the post helps to avoid the jewellery getting caught on things and moving around freely through the piercing, which in turn leads to more comfortable and easier healing.

But what happens now that we're temporarily closed, or all piercing studios are closed for that matter, and you can't come back to see us for your downsize?

Some of you might think you can just purchase the jewellery from our online store so you can do it yourself at home… but this really isn't a good idea, and here's why….
When a piercing is healing it starts off as an open wound, and as it heals it will form a little channel of scar tissue around the jewellery which is what the piercing itself actually is. Your downsize is generally scheduled for anywhere between 2 – 8 weeks after having the piercing done, and in this time that channel won't be entirely formed just yet and very, very delicate.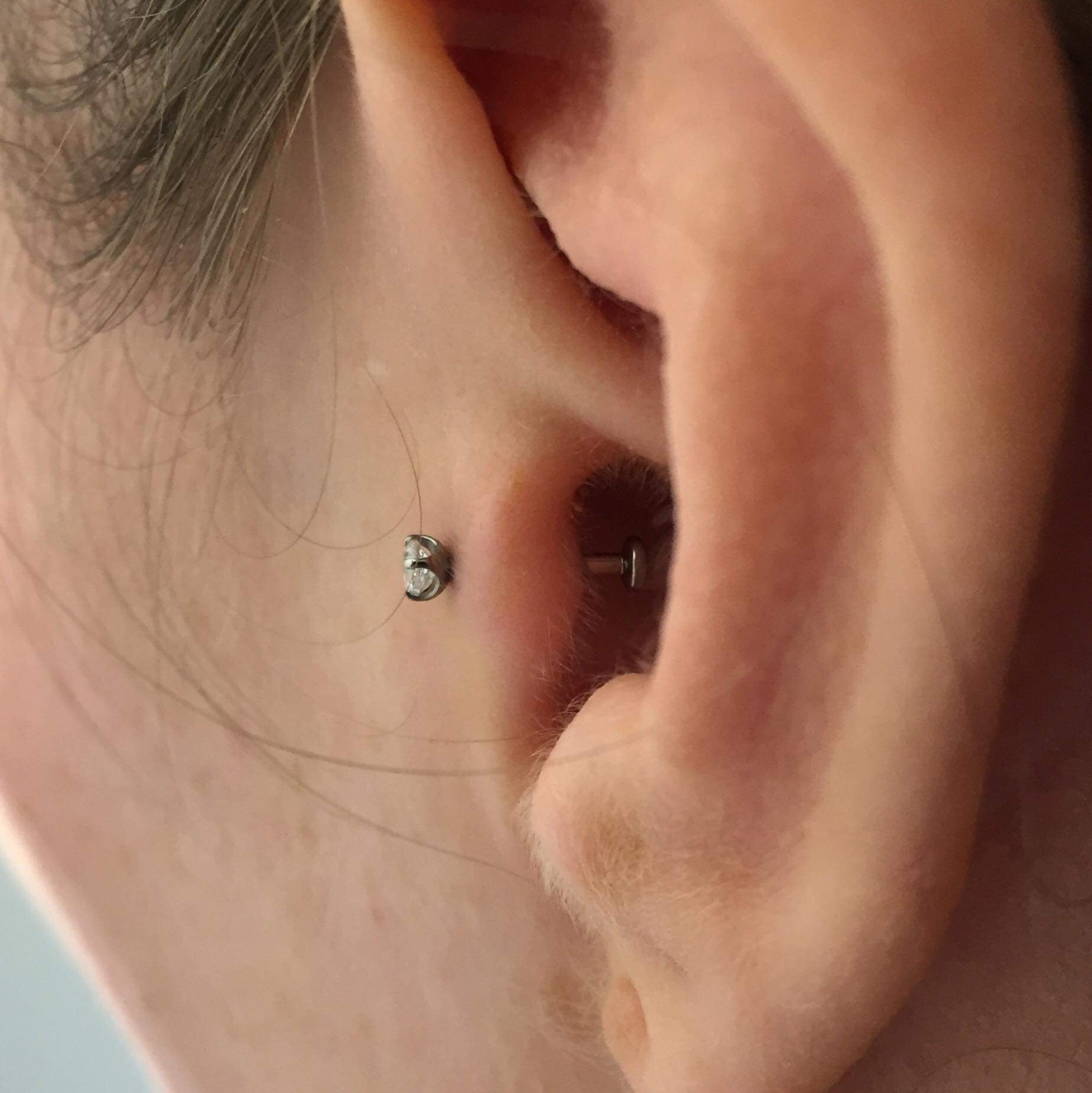 When we downsize your piercing, we use special tools that allow us to gently back out the existing jewellery and insert a new, shorter piece without leaving that delicate piercing channel empty at all. Our tools and jewellery are sterilised immediately before use, and just like performing piercings, performing a downsize gently and in a way that causes the most minimal disruption to the healing process is a learned skill.
At home you don't have access to these tools or an autoclave to sterilise them in. This would mean that if changing your own jewellery at home you'd need to entirely remove the piece of jewellery and insert a new one without the use of these tools, which often will result in tearing/damage to the piercing channel.
Sadly, damaging the piercing channel leaves it more susceptible to infection, irritation and complications during healing. This is why we always recommend to never change your jewellery yourself until your piercing has completely healed, and downsizing is no exception!

So if you can't downsize it at home, what do you do?!
We acknowledge that it's inconvenient to not be able to downsize, and potentially disruptive to your piercing's healing process, but never fear! Not being able to downsize your piercing isn't the end of the world. What we would recommend is just to leave it be until we are able to reopen and assist you with your downsize, but also to be extra careful with it in the meantime.
The excess length on the barbell post won't totally halt healing in it's tracks, but will mean you need to be careful of the following things:
Please be mindful of the piercing. Remember that it's there when you go to tuck your hair behind your ear, answer your phone or take your t-shirt off!
Don't sleep directly on the piercing. We likely would've recommended you sleep on a travel pillow to alleviate pressure on the piercing. In addition you can also stuff pillow down your back so you can't roll around too much in your sleep!
Don't touch it. Please! Touching and fiddling with it are only going to make it irritated.
Careful with your hair getting tangled. Those of you with long enough hair should be extra careful not to get your hair tangled around the excess length of the post. Especially curly hair, which is much easier to get tangled!
As a team here at The Piercing Urge, we have weighed up the pros and cons of each scenario and we've decided that potential irritations from leaving the long jewellery in until we are back open far outweighs the risk of downsizing yourself at home.
With proper love and care, not being able to downsize your piercing for a few weeks or even a couple of months will cause only minimal disruption to the healing process.
Should you have any problems or concerns about your piercing during this time we are closed, please don't hesitate to reach out to us. We are still here to help as best as we can!
We wish you all good health and happy piercings during this time.
Love,
The team at The Piercing Urge